Solutions
Create an environment and buildings in which people can live and work comfortably
The AGC Kashima Plant is aiming for the future
The AGC Kashima Plant, equipped with a world's largest facility for manufacturing architectural flat glass, is located in Kamisu City, Ibaraki Prefecture, Japan. During over 40 years of its history, the plant has continued meeting the needs of the times, by manufacturing products such as fluorine-based fine chemicals and high performance glass.
Manufacturing both glass and chemical products, the Kashima plant has operated an integrated management system of security, environment, safety and disaster prevention since 2010. The plant has been improving its unit energy consumption (e.g. energy required for manufacturing 1 ton of products) as a place conducting energy-intensive business (type 1 designated energy management factories).
Completed in January 2019, the plant built a new office building and is working on further energy saving initiatives. The goal of these initiatives is to realize an environmentally-friendly building achieving both energy saving and energy creation using AGC's products.
Stay healthy & continue working while saving energy
As a part of these initiatives, AGC has applied for the "Net Zero Energy Building Project" organized by the Sustainable Open Innovation Initiatives, and the Kashima plant's office building has been evaluated as a Net Zero Energy Building. Being a zero energy buildings requires not only energy efficiency but also energy generation. Why does society need zero energy buildings now? Professor Shin-ichi Tanabe at the Department of Architecture, Faculty of Science and Engineering of Waseda University, a leading expert on zero energy buildings in Japan, explained the importance.
"The concept of zero energy buildings first came into the spotlight in Europe and the U.S. around the mid-2000s as one of the countermeasures for the global warming issue. It became widely recognized in Japan when a research meeting by the Ministry of Economy, Trade and Industry of Japan and the Agency for Natural Resources and Energy took place in 2009. COP 21 (the 21th Conference of the Parties to the United Nations Framework Convention on Climate Change) at the end of 2015 adopted the "Paris Agreement", a new framework for global warming countermeasures after 2020. In response to this framework, Japan promised to achieve a 26% reduction of greenhouse gas emissions by 2030 from the 2013 level. To achieve this goal, about the half of the reduction needs to come from the housing and construction field. Therefore, zero energy buildings will play a vital role with its energy saving and energy generation features.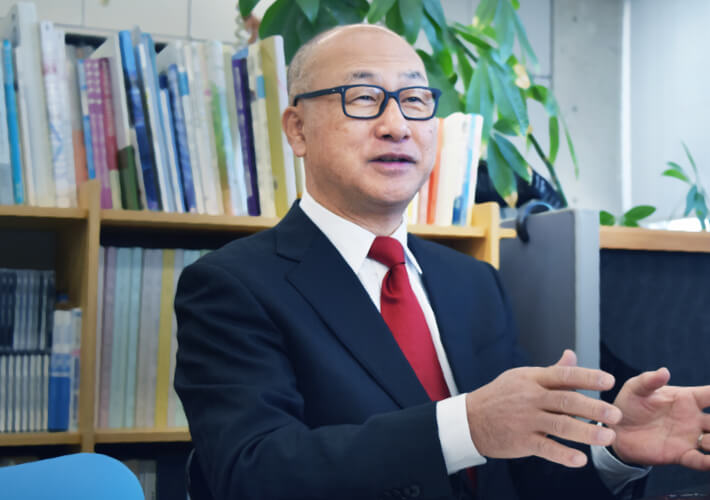 Zero energy buildings also has a positive effect on people working there, which is one of the benefits to introduce zero energy buildings. Taking Japan as an example, the working population of the country will decrease by 13 million people by 2030. Under such circumstances, if we assume we don't allow overtime work, working hours will be cut by 22.7%. This means we need to raise working efficiency by 1.5 times in order to maintain the current GDP. This is really difficult to achieve. Therefore, it is important to increase the productivity of an increasingly limited number of workers in a feasible manner. Ensuring the health of workers and a comfortable working environment is crucial to raising productivity. The ideal workplace in the future should provide an environment in which we can work healthily and comfortably while saving energy."
Energy saving and comfortable work environment
"Frankly speaking, if the insulation is the only factor to consider, we can save energy at low cost simply by building a room without windows or doors. However, we want to give ourselves the option of being able to allow in the wind when the weather is nice outside. The views from windows are also considered important recently as being able to see nature outside the room is said to have a positive influence on the workplace environment. Greenery is valuable particularly in an urban area.
In order to realize this, we need transparent materials such as glass windows. Manufacturers like AGC should not only strive to provide products with energy saving and energy generation features, but also to improve the environment, sociality and comfort for those who work in the buildings by utilizing the products they produce. I want AGC, the leading company in the industry, to take the initiative for such an aspect."
Zero energy buildings categorized in three phases
In order to offset the energy consumption of a building, we need to both save and create energy to a significant extent. The Ministry of the Environment has defined three phases of zero energy buildings according to the achievement of zero energy.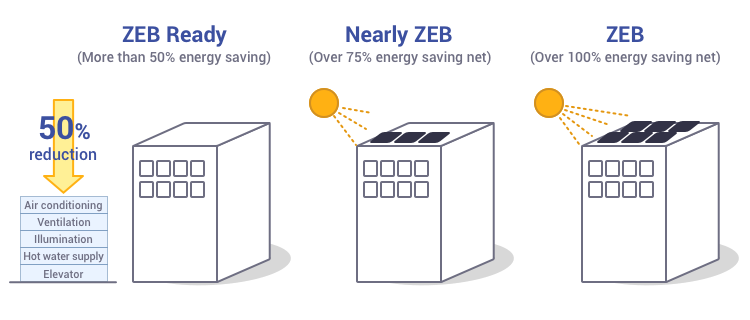 The first phase is Net Zero Energy Building Ready. This refers to buildings that realize reduction of primary energy consumption by 50% or more from the standard primary energy consumption (* Note 1).
The second phase is Nearly Net Zero Energy Building. This refers to buildings that realize reduction of primary energy consumption by 75% with energy saving (50% or more) and energy creation.
The third phase is Net Zero Energy Building. This refers to buildings that realize reduction of primary energy consumption by 100% with energy saving (50% or more) and energy creation.
The office building of the AGC Kashima Plant has achieved the highest rank among the three.
Invisible improvements for a better working environment
As professor Tanabe said, the construction of zero energy buildings is an urgent task in order to achieve Japan's greenhouse gas reduction goal for 2030. Foreseeing such environmental changes, AGC was among the first to construct the main office building of the AGC Kashima Plant as a zero energy building.
The office building is a two-story building with the total floor space is 1,435 square meters. The building has various energy-saving/generation features such as solar panels and storage batteries on the rooftop, efficient air conditioners for cooling and heating, energy recovery ventilation to reuse warm/cool air in the building, a Cool Biz air-conditioning system to improve energy efficiency while ensuring an adequate thermal environment, air-type radiation air-conditioning system to provide a comfortable environment by cooling/heating the ceiling, desiccant air dryers to adjust temperature and humidity and LED lighting with low energy consumption. These hidden and sophisticated technologies and environment are provided to the employees.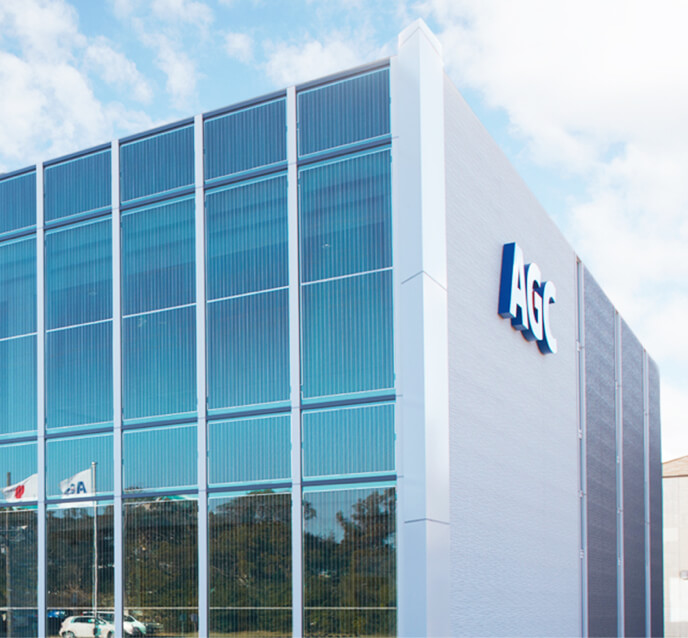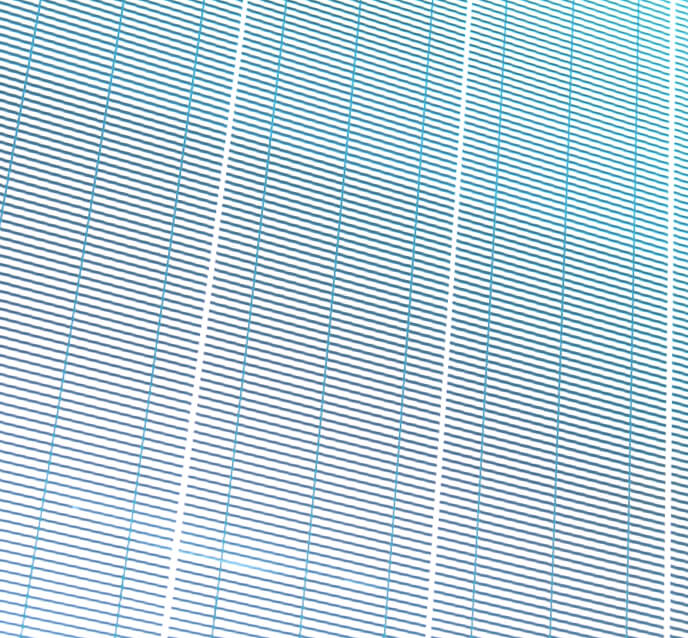 AGC's environmentally friendly glass products for energy saving energy creation
AGC products also play vital roles to realize energy saving and energy generation. Thermal barrier and thermal insulation products such as low-E double-glazing "Sunbalance™" and raw material for heat-insulating urethane foam "Excenol™" contribute to energy saving.
Glass-integrated PV module "Sunjoule™ SUDARE" is used for the windows as an energy generation product. It is noteworthy that energy can be created also at the opening by photovoltaic power generation.
The headquarters building of AGC Glass Europe in Belgium also a nearly zero energy building
While zero energy buildings attract attention in various countries, the headquarters building of AGC Glass Europe in Louvain-la-Neuve, Belgium was also an early adopter of zero energy building concept with the initiative for energy saving and energy creation. The facility is categorized as a Nearly Zero Energy building. The photovoltaic power generation covers almost all the power consumption of air conditioning and lighting in the building.
Glass is also playing a vital role in this building as the only material that can protect the people inside from the heat and glare of sunlight while incorporating natural light as much as possible. The building utilizes glass with a total area of 13,000 m² in order to realize an environmentally friendly and comfortable working environment. The important role of glass was proved by the design and architecture of the building which offsets its energy consumption to almost zero. The building is in one way the showroom of the AGC Group as it utilizes all kinds of AGC solutions such as design, insulation and heat shielding performance and sustainability.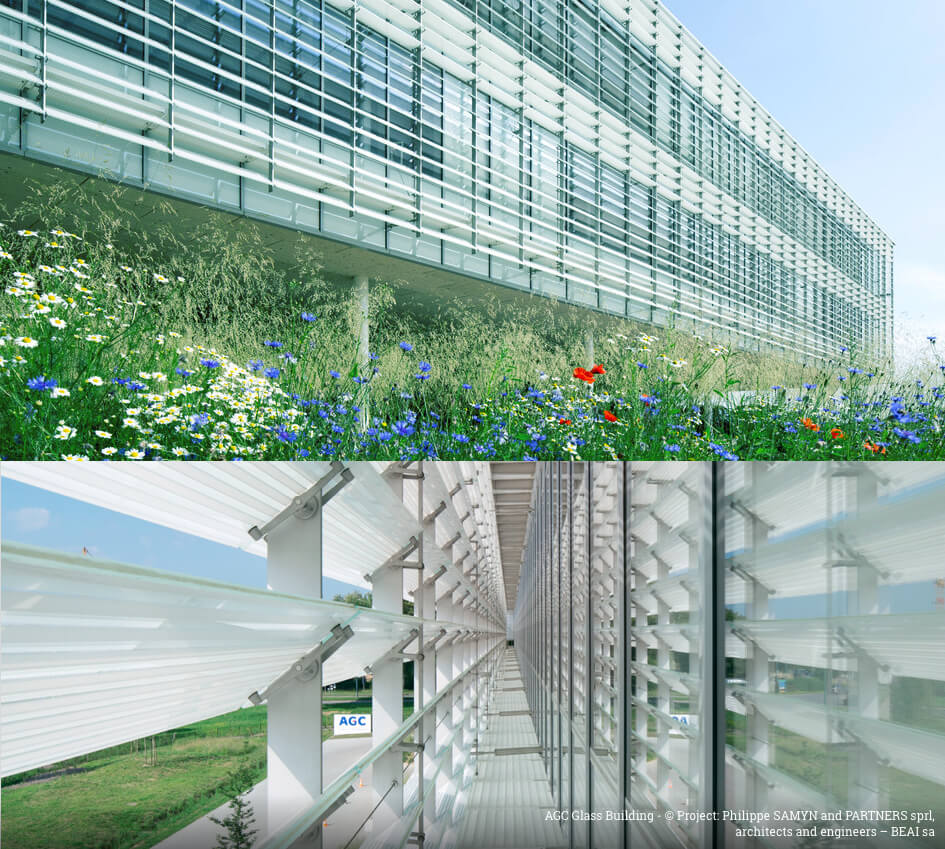 Realization of buildings where everyone can work and live comfortably
Global environment issues are becoming more and more serious, and zero energy buildings are under the spotlight as one of their solutions. Interest in ESG investment has increased internationally in recent years, and the value of zero energy buildings in various aspects such as environmental measures and investment are acknowledged. There is no doubt that the solution will be even more importance in the future as a sustainable attempt to preserve the global environment.
The office building of the AGC Kashima Plant has realized zero energy buildings under such circumstances reflecting AGC's technologies and the determination. The AGC Group will continue to develop and provide high-quality products and services that are "reliable, safe and comfortable", and contribute to the creation of environment friendly buildings so that people can work healthily in their working environment and spend a rich daily life.