Vision 2025
The AGC Group is Realizing Vision 2025 by Enhancing Core Businesses and Expanding Strategic Businesses
Basic Concept
In February 2016, the AGC Group established Vision 2025, alongside a long-term management strategy for realizing its goals. Under the strategy, the Group has designated its glass, chemicals, display glass and ceramics businesses as Core Businesses for ensuring stable sources of earnings over the long term. By designating its mobility, electronics and life science businesses as Strategic Businesses, it will aim for high growth in targeted markets. These business categories will serve as twin pillars for achieving Vision 2025. Based on the principle of always meeting customers' expectations and continuing to earn their trust, the AGC Group is pursuing strategic mergers, acquisitions and other investments aimed at generating value and growth, while working to allocate operational resources with an emphasis on asset efficiency.
Looking ahead, the AGC Group will continue offering value to customers and society as it aims to be a highly profitable, leading global material and solution provider.
Vision 2025
By 2025, the AGC Group's Core Businesses will serve as solid sources of earnings, and Strategic Businesses will become growth drivers and lead further earnings growth. In 2025, the AGC Group will continue being a highly profitable, leading global material and solution provider.
Basic Strategy 1
Core Business
Establish a long-term stable revenue base with thorough portfolio management


Architectural glass


Automotive glass (existing)


Display glass


Essential chemicals

Performance chemicals


Ceramics
Practicing Comprehensive Portfolio Management
The AGC Group now designates its architectural glass, automotive glass, chemicals and display glass businesses as Core Businesses. Through these businesses, the Group will establish long-term, stable sources of earnings while focusing on the effective allocation of resources based on its business portfolio. It will also carry out growth-oriented investments, including mergers and acquisitions.
The AGC Group has established a strong presence in Thailand and Indonesia through its glass and chemicals businesses. By taking advantage of growth in Asia in particular, this has created opportunity for business expansion from Southeast Asia to the Middle East (West Asia).
Basic Strategy for Strengthening Core Business
Core Business

Basic Strategy
Architectural glass

Select and concentrate on high growth countries & countries in which the Group has a competitive advantage
Innovative business models to enhance asset efficiency
Automotive glass (existing)

Respond to needs for more advanced functions and performance amid the expansion of the Eco-friendly vehicles and automated driving systems
Display glass

Optimize the allocation of production bases to respond to the demand shift in the LCD glass market
Cultivate markets for new display applications
Essential chemicals

Further strengthen the business foundation of Chlor-alkali business in Southeast Asia
Performance chemicals

Take advantage of the global demand increase in high performance materials for the growth of the fluorochemicals business
Ceramics

Deliver new value propositions with a mix of materials, engineering & services
Establish business bases in Southeast Asia and expand global sales
Growth Strategy in Asia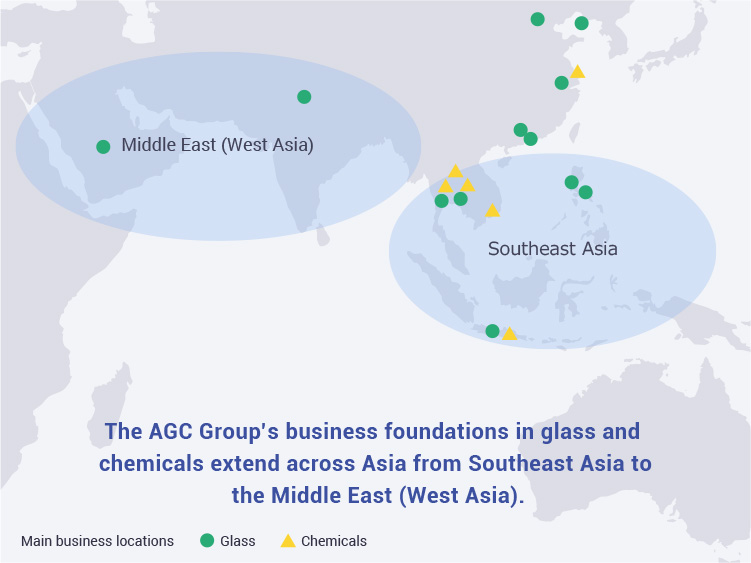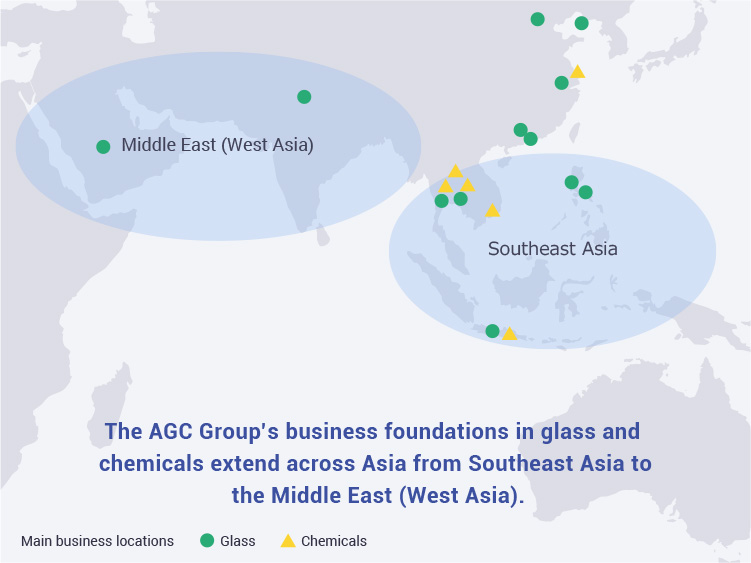 Close
Basic Strategy 2
Strategic Business
Establishing highly profitable businesses through expansion of high value-added businesses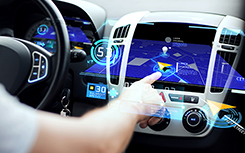 Mobility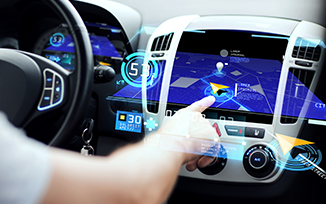 Mobility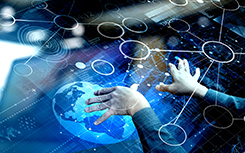 Electronics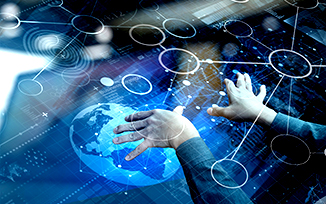 Electronics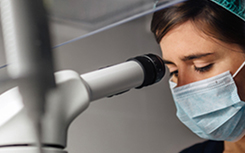 Life science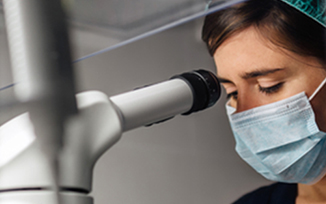 Life science
Expanding high Value-added Business
Through its Strategic Businesses, the AGC Group is offering solutions with increased added value, targeting markets covering the three categories of mobility, electronics and life science. The Group's mobility business provides solutions that help integrate information and communication technology (ICT) in automobiles and construct innovative infrastructures and new ecosystems for transportation. The electronics business supplies optical materials for smartphones and signage-related products and technologies based on the vision of an Internet of Things (IoT) society, in which all types of products are interconnected via the Internet. Products in this business help further diversify input/output devices, as well as increase the speed of communications and the density of data storage. Finally, the life science business provides products that facilitate advanced medical care and solutions for global food shortages.
*ICT: Information and Communication Technology.
*IoT: Internet of Things.
The AGC Group's Solution for Targeted Markets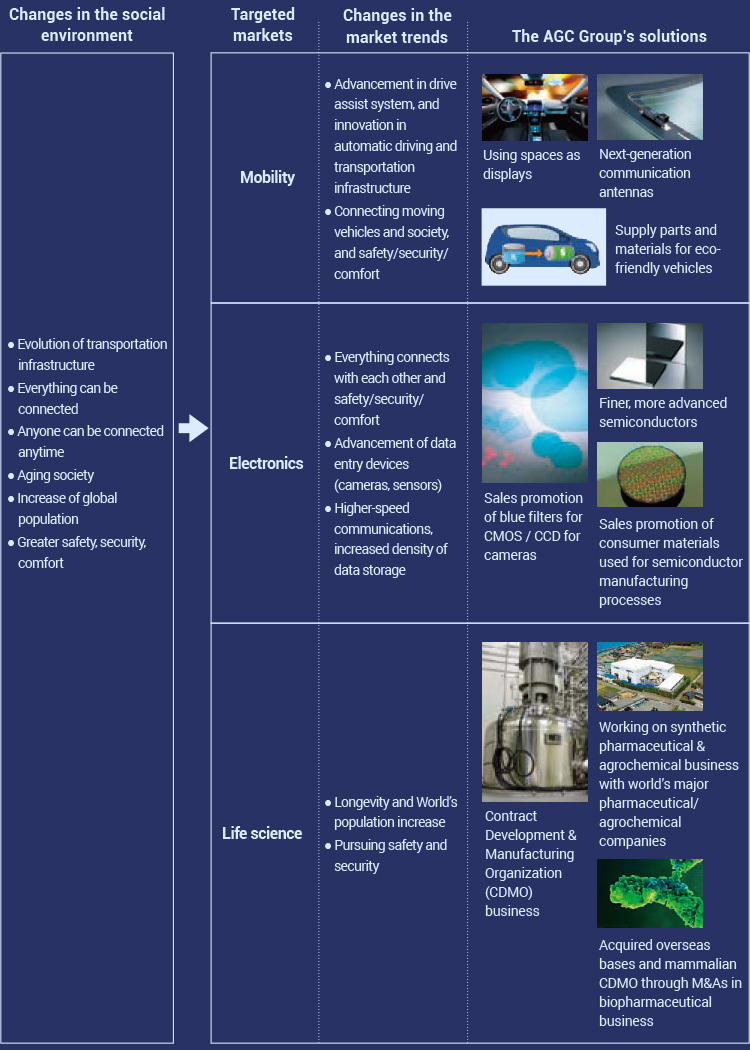 Close
The AGC Group's Strengths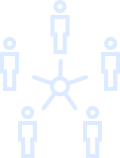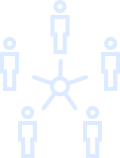 Wide-ranging customer base


Varieties of material technologies in the field of glass, electronics, chemicals and ceramics


Production technology development capability and operational excellence